How Would You Like to Brick Yourself?
$29.95 AUD
FREE DELIVERY AUS WIDE!
---
Hundreds of Figure Design & Accessory Options to Choose From!
Brand New Genuine LEGO Parts
Includes 2 Genuine LEGO Accessories
FREE Minifigure Mini Base Plate
FREE Delivery Australia Wide!
International Delivery Only $6.95 AUD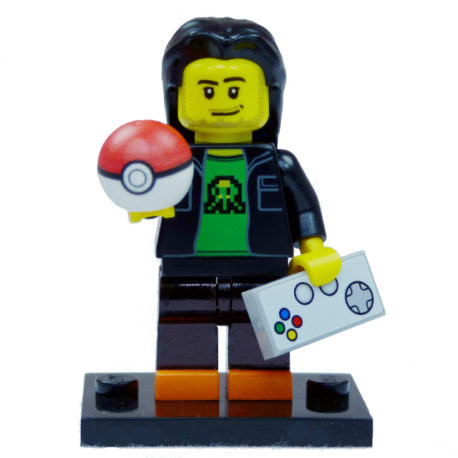 $79.95 AUD
FREE REGISTERED DELIVERY WORLD WIDE!
---
Designed According to Your Specific Requests Using Genuine LEGO Parts
Advanced Customisation Options & Specialised LEGO Accessories
FREE Minifigure Base Plate
FREE World Wide Registered Delivery !
---
High-end, Meticulously Designed "One-of-a-Kind" Custom LEGO Figures & Sets
Bulk Custom Figure/Set Design & Production
Made to Order LEGO Sets & Custom Scenes
Artistic Works & Sculptures Entirely in LEGO
"LEGO Quality" Detailed Custom Printing on Genuine LEGO Parts & Figures
Put simply, if it can be designed in LEGO, we can do it!
Have a blast building your very own figure! Choose from our massive selection of brand new genuine LEGO parts and build a totally unique figure made exclusively by you.
Choose from hundreds of genuine LEGO parts to create thousands of possibilities.
Make part selection a breeze with our simple and easy to use ordering system.
Parts Reference Sheets allow you to look though possibilities and make your choices at leisure.
You have total control over which parts to include.
It's the most economic option since you're not being charged for a designer.
It's also the fastest option, since ordering and shipping happens almost instantaneously after checkout.
Our "Make Your Own" – Custom Figures combine beautifully presented part reference sheets with an intuitive, simple to use ordering form, making selecting your parts and creating your figure as easy as possible.
Once you've made your choices, add your selected parts to your basket and proceed to the checkout. There the parts will be listed for you to confirm before placing your order. Upon confirmation of payment we'll pack your order up and ship it off without delay.
It's so much fun and there's so much choice, get started now!
Our Advanced Figure is superb bespoke LEGO design. With a  superlative track record of high artistic quality and overall customer satisfaction, there are many reasons our original Advanced Figure continues to be our most popular selection among customers.
You get to work collaboratively alongside a professional LEGO artist and assist in the conceptual and actual production of a custom LEGO figure that can be treasured forever.
You'll receive pictures of the figure before we send it and be able to provide suggestions for improvement if necessary.
For your figure, some small specialist customisation by hand is also available at the discretion of your designer.
Exemplary customer service is provided throughout and beyond the production of your figure.
Figure comes with free Baseplate, PVC Display Case
FREE registered shipping Australia wide which includes tracking and insurance
Discounted international shipping options dependant on country and delivery time. Tracking, insurance and sign on delivery are available
Thousands of genuine LEGO parts in addition to custom parts uniquely available to Brick Yourself are all at your designer's disposal in the creation of your figure.
Our Advanced Figure is generally the best balance between price and choice of design or in other words, it's probably the best bang for your buck!
Not only are there literally thousands of possible combinations of parts, but our artists will always go out of their way if necessary, to ensure you get a figure that is unique, artisitc and chock full of character.
The artist will work closely with you, paying close attention to your descriptions  and taking the time to think about the design before proceeding.
Our parts range is so extensive that we have many rare (and in some cases now extinct) parts which can't be found anywhere else in the world. By utilising this amazing resource and combining it with skillful customisation techniques, we're able to produce some remarkably unique and artistic minifigures.
After the first draft has been completed, the artist will send you a photo for your approval of the design, if necessary asking questions as well as taking on board any further suggestions you may have.
Though we may not be able to spend hours and hours working meticulously on fine details as we may be able to with a Premium Figure, we are able to draw from such a wide range of choices, styles and designs and employ such a wide variety of customisation techniques, that we're always going to hit pretty close to the mark with your figure's design, usually right from the first draft.
We even have the possibiliy of ordering in a mindboggling number of other parts not in stock from all over the world.
Our artists have already taken the time to research thousands of parts but if required, will investigate even further and import parts specifically for your needs. Please be aware however that this may increase the length of time it takes to complete your order (usually a week or so) and in 5-10% of cases (depending on the part) will also increase the cost of your order.
Brick Yourself Premium exemplifies the pinnacle of custom minifigure architecture. No expense is spared in the creation of our most coveted products which include highly customised minifigures (solo or in bulk) as well as superb custom sets and sculptures.
Our Premium Service produces figures, sets, sculptures and bulk orders of figures of the highest calibre
Simply describe what you'd like on the contact form and we'll attempt to cater to practically any request in terms of size and scope
You'll work side by side with a designer guided by your thoughts and instructions, they will invest a part of themselves into your design to produce something unique, artistic and of superb quality
You'll be able to utilize the skill & knowledge of our internationally recognised designers to create a bespoke figure of the highest possible calibre.
Experience first class customer service throughout the entire design process
A variety of LEGO parts and custom parts as well as range of often painstaking customisation techniques are employed to create highly specific, detailed and imaginative designs
Figures come with free base plate, and free Collectible Case exclusive to Brick Yourself
In essence this option allows you to personally direct a highly skilled professional in the creation of whatever you care to imagine. Be it a figure, many figures a set or even a sculpture there are few limits to what can be accomplished.
Customers can expect the same high level of customer service we provide with all our products as well as beautiful artistic creations guided by an eye for detail unparalleled in the custom minifigure world.
The artists will spend time thinking about your design, researching and creating the concept before moving on to the creation of a first draft or prototype. If custom parts need to be imported from overseas, hand made or sourced by other means these resources are all available to be drawn upon.
Once the design has been finalised and requisite parts sourced, the designers will move on to further customisation techniques (mainly for figures) if required such as inking and painting. Occasionally even digital designing and printing is incorporated into the figure.
The Premium Figure is a milestone in custom LEGO figure design. It incorporates skill, experience a wealth of parts, resources and knowledge and more than anything a desire to create something truly special and unique, whatever that might be. Contact us for a free quote today.
Brick Yourself Figure Customisation Levels:
CUSTOM "Make Your Own" Figure: Cusomisation Level = GREAT!
ADVANCED Figure: Customisation Level = AMAZING!
PREMIUM Figure: Customisation Level = MINDBLOWING!